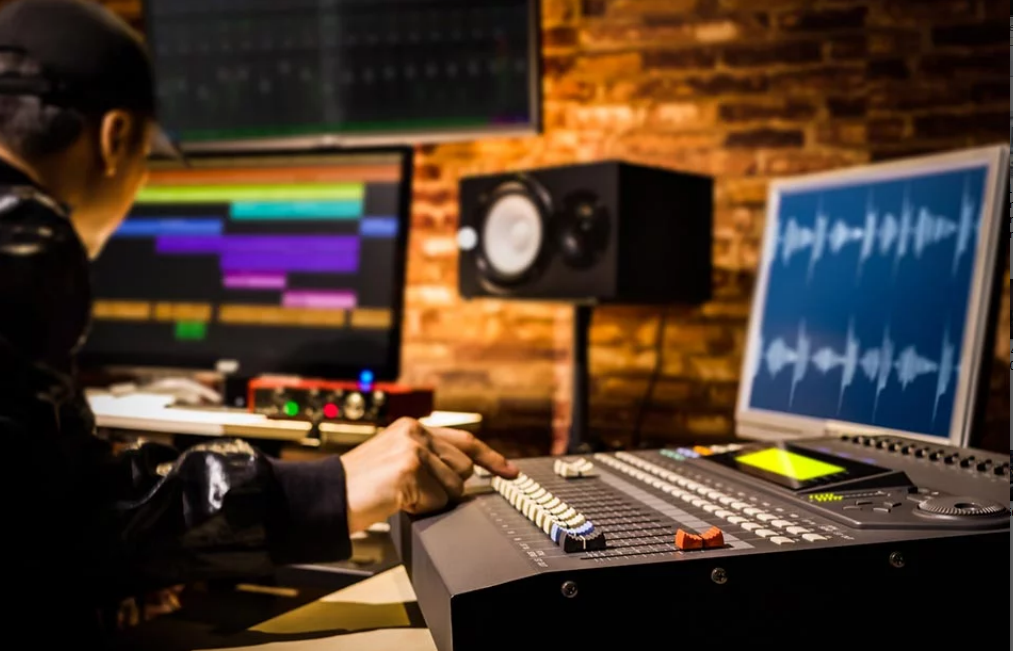 For many musicians and music lovers, to be a music producer is the absolute dream job. To be a music producer you got to spend your days socializing with famous and talented musicians, creating pieces of art that are valued by millions of people. As a music producer, you are a respected and integral part of the production of an album, and you get to shape the tone, style, and sound of an album as it's created. While this dream job has more perks than any music lover could ever hope for, most musicians don't know how to become a music producer or what's involved in the job.
The road to become a music producer isn't an easy one — and the job itself isn't simple either. The job is coveted and the competition for the limited spots is fierce. In recent years, as the music industry has changed and small, independent labels have a greater share of the music production.
Sometimes the band's manager or audio engineer will act as producer, while other bands have a designated producer. But what exactly does a music producer do, and how do you become one?
What is the work of a Music Producer ?
A music producer is responsible for many tasks, and, ultimately, they are entrusted with shaping the record as a whole. In order to do this, they must have considerable knowledge and experience in all areas of music production and musicianship. A record producer is expected to know the ins and outs of audio engineering, performance, arrangement, music theory, marketing, and general business practices.
Often a record producer will be responsible for managing the entire process of recording an album. In order to do this, they will need to know how to schedule studio time, keep everyone on task, organize and hire studio musicians, negotiate, organize contracts, and come up with ideas for the project.
Record producers must be entrepreneurial. It is the most dynamic role in the production of a record, and it requires years of experience in the industry. Now that we know what a music producer does, let's look at how to become a music producer. There are many paths you can take when you're trying to figure out how to become a music producer, and there is no one right or wrong way there. What is most important, in how to become a music producer is you must learn the ins and outs of every facet of the music industry. You must learn every step in the process of making a record, and to learn all of this takes time in a few different roles in the industry.
Become a Musician
Most music producers will get their start in another role (or several roles) in the music industry. Because producers are so intimately involved in shaping the sound of a record, it is important that they have a good understanding of music itself. Many, if not most, music producers start out as musicians. To become a music producer you need to know musical arrangement, composition, theory, and all different genres. It's often musicians who have the best understanding of these subjects, and, as a result, musicians often make the best music producers. If you're wondering how to become a music producer, start by becoming a musician.
As a musician you will learn a lot about the process of writing music and creating a record. It is a frustrating and daunting process, and the difficulty of it is why record producers exist. To be a good record producer, you need to be able to empathize with a band who is trying to create an album. You have to be able to help them shape their vision for the album, and if you've created an album of your own this will be much easier.
Study Music Business
Producers must also have a vast knowledge of industry trends—what's popular, what sells, and how genres differ from each other. In order to produce an album that's successful and lives up to the vision of the band, a producer must fully understand what a good album in a particular genre should sound like. How to become a music producer doesn't depend on this, but many producers get their experience and knowledge in these in a proper music business program. Check out our music production course
A good music business program will cover most of the legal, financial, and administrative aspects of being a music producer. While this might not immediately open the door to being a major label producer, it definitely helps to pave the pathway there. With a good education in music business, you can further your industry experience as a band manager, venue manager, tour manager, or one of many other industry professions. Once you have your foot in the door and some experience under your belt, it will be possible to transition into a music producer role.
Learn Sound Engineering
One of the most beneficial skills for a record producer to have is an understanding of audio engineering. Because a record producer is an integral part of shaping the sound of a record, they are involved in every aspect of creating it: recording, mixing, and mastering. It's immensely helpful if a record producer knows the skills involved in audio engineering. They should have ears that are well trained to what sounds good, as they will provide input throughout the creation of the album.
If a record producer has a desired sound, tone, or effect in mind, they must be able to effectively communicate the intended sound to the audio engineer in control. This is critical to creating an album that fits correctly in its genre, sounds good, and is marketable.
Manage a Band
If you have the know-how and skills to be a record producer, volunteering to manage a band can help you get your start. Most independent bands do not have the funding to justify a designated record producer. Rather, their band manager will often serve as producer in addition to band manager. Many industry professionals get their start by managing their friends' or another unknown band. If you help to lead the band to success, and produce a quality album that receives recognition, then you will have your start in the business.
Managing and producing an independent and unknown band can be a lot of fun, and it can be a very comprehensive learning experience. To do this successfully — on your own without training — you will need to do a lot of self-study and research. If you have a foundational knowledge of music styles and trends, then some studying of music business can go a long way for your success.
Intern in a Studio
As a recording studio intern, you will constantly be exposed to record producers and other industry professionals. The music business is all about making connections, and interning is one of the most common ways to start making these. While you may have to spend a long time, working hard hours, with little or no pay, a studio intern gets to see the whole process of how a record is produced and created. The exposure to the process will help you learn the terminology, methods, and skills that are a part of creating a record.
While an internship likely won't lead directly to a record producer job, it will open many doors in the industry. More importantly, it will help you begin to develop the skills necessary to craft a record from start to finish.
Work for a Record Label
If you have no experience in the music business, your best bet to learn how to become a music producer might be to get an entry level job with a record label. If you start out helping an independent record label with whatever skills you may already have, you will find opportunities to learn and develop your career down the road. It may take many years to move from an entry level position all the way to record producer, but if you have the right skills, attitude, and work ethic, this is a way to establish yourself in a fun and exciting career.
Our Music Production Institute is lined with up a well calibrated Music Production Syllabus to be become today's techno musician and a producer. We offer a much advanced course to become the best Music production and Sound Engineering institute in chennai